/
/
/
Franklin Concert Choir
Last modified: September 17, 2020
Franklin Concert Choir
A non-auditioned ensemble of 4th-6th graders at Franklin Elementary.
We meet after school twice a week on Mondays and Wednesdays from 3:20-4:30pm.
We perform in four concerts a year.
Choir Registration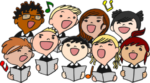 Registration for choir occurs through the after-school program.
Look for a letter from the after school program explaining how to register.  I will also personally send a reminder letter home as well when the enrollment window is open.
Choir Attendance Policy
Franklin Concert Choir follows a three absences maximum policy.
Notes explaining reasons for absences are not necessary.
CAUTION: Roll is taken each rehearsal.  If a student has missed more than three rehearsals, he or she will not be able to participate in concerts, special performances, field trips, choir parties, etc.
If there are extenuating circumstances that have caused or will cause a student to miss more than three rehearsals, a note, email, or phone call will suffice for an explanation.  If appropriate, leniency will be granted.
Choir Performance Attire
Attire for all performances (i.e., all of the dates on the calendar with the exception of choir parties) includes the following:
White Shirt; button-up or blouse – Ironed
Black Pants/Skirt (black tights) – Ironed

If a skirt is worn, Black Tights should be worn underneath

Black Shoes
Choir Sash

A blue or gold sash will be provided up the school to wear across the shoulder

Hygiene
Hair brushed (extra attention to styling doesn't hurt)
Make-Up (for girls only but a little blush and gloss is historically appropriate for stage performances)
Choir Pictures and Videos
Choral Performances 2015-2016
Contact Information:
Kayla Spurlock
kaylas@provo.edu
(801) 368-8962